Base rates for rubbish removal in Covent Garden
| Size / Volume | Weight (up to) | Rate |
| --- | --- | --- |
| Minimum load | 100 kg | £49 |
| 1/3 of the truck | 500 kg | £125 |
| 1/2 of the truck | 700 kg | £150 |
| 3/4 of the truck | 950 kg | £220 |
| Full truck | 1200 kg | £260 |
Rubbish Removal in Covent Garden
If you have ever tried to dispose of a freezer that no longer works properly , you probably know that lifting such a heavy piece of equipment can be a very risky task. Without the right equipment, experience and training, you will only end up wasting too much of your time .

Therefore, it is best if you let a skilled team of rubbish collection specialists give you a hand. We have everything necessary to provide a solution for your problem , since we can offer you reliable, eco-friendly and effective removal of rubbish in Covent Garden WC2. Our personnel work is done in a very meticulous, timely and neat manner. Once our clearance workers remove all the junk from your property they will make sure not to a leave a mess behind .
We take on bookings for rubbish removal in Covent Garden on weekends and official holidays because we are incredibly dedicated to our work. Clients in WC2 will also be given a personalised quote.

Book a green Covent Garden rubbish removal service - dial 020 8077 6161
Downsizing from a house to a flat often requires throwing away many bulky and barely used items that you still keep. While it can be really hard to decide which things are no longer worth keeping , getting rid of them is actually more challenging than you can probably imagine.

But since we have up-to-date rubbish vehicles and all the necessary licenses , your domestic clearance in Covent Garden will go as smooth as butter. There is nothing that our incredibly friendly, highly qualified and properly trained staff won't be able to collect. We can haul various types of materials, including metal, lumber, glass and paper.

We also have permits to work with all rubbish depots in Covent Garden and we thoroughly follow all quality and safety standards. To provide our customers with the most budget-friendly home clearance in WC2, we offer custom-tailored quotes. It should be noted that we do not deal with hazardous waste like house paint, cleaners or asbestos.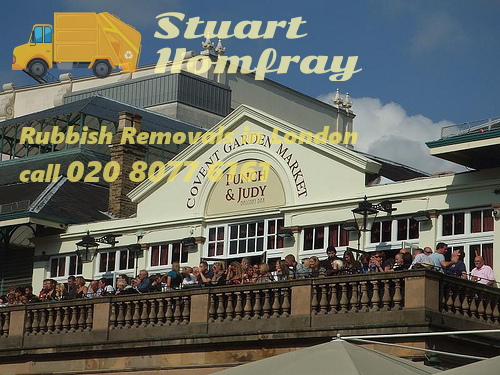 Stuart Homfray will not let you down
As a very well respected Covent Garden WC2 rubbish removal company, we make sure that every single one of our team members is:
We know that having the right people by one's side is the only sure way to have a project related to waste management of any nature and scale carried out properly. Just give us a call and we will arrange for the best experts in town to be send to you and you will receive all the assistance you need and more.

Covent Garden WC2 is a district in the City of Westminster, one of the most prominent parts of the West End. It is most famous for its covered market. Famous landmarks that are to be found throughout Covent Garden include the Royal Opera House, Covent Garden Piazza, Theatre Royal on Drury Lane, and the celebrated Freemansons' Hall. Another thing the area is known for is the fact that there are over 60 pubs here, many of which are historic.
House/Office/Garden/Garage clearance - we can remove all kinds of rubbish in Covent Garden
Feel free to
get in touch with our team
of rubbish clearance experts in order to learn more about our truly top notch
junk hauling WC2 Covent Garden
covering service.
All members of our team are
licensed and insured
, and the
collection trucks
that we operate with come with:
large capacity (up to 1100 kg)
modern fast loading equipment
skilful drivers
.
We will
cover the requirements of your junk hauling
WC2 area job diligently and on schedule and you will not have to worry about any specific problems, because we will
tailor an individual plan
for the job that will guarantee its proper completion.
Our comprehensive teams in WC2 can do:
House Clearance
Office Clearance
Garage rubbish removal
Garden waste removal
All kinds of domestic rubbish removals
Allow us to take care of the logistics and execution of
your rubbish disposal in Covent Garden
for you. We are skilled and hard-working
waste clearance contractors
and we provide
top notch and comprehensive
rubbish collection services. We are currently the
most praised and sought after technicians
in the area due to the fact that we always manage to meet the demands of our clients and complete their WC2
rubbish disposals
in a timely manner. The only thing that you have to do to
benefit from our assistance
is to give us a call and tell us when and where we should come in Covent Garden.